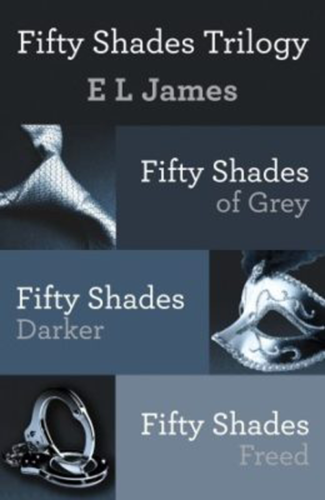 When new pop culture phenomena hit, I am usually the first to go run and hide in a quiet corner.  It's the Bay Area born and bred non-conformist in me, I suspect.  To this day I have not read a single Harry Potter book, I avoid getting hooked into sitcoms, and I very rarely listen to anything on the radio. My thought process is that if the herd of masses is behind it, then it's probably not my cup of tea.  I am very selective of the information I consume as a general rule.
I must confess, though, curiosity got the best of me (big time) when I picked up and read the entire Fifty Shades Trilogy in 3 days. If you haven't heard the premise of this new literary obsession, let me briefly fill you in.  Fifty Shades of  Grey is a romance trilogy that takes you through a steamy and torrid love affair between Anastasia Steele, a college student on the verge of graduating and a young, successful CEO named Christian Grey.  The much further description is pretty much unprintable here in a professional setting.
The trilogy of books have commanded the top 3 best sellers slots (1, 2 and 3) for nearly 22 weeks and show no sign of stopping anytime soon.  Fifty Shades of Grey has quickly become one of the bestselling books of all time.
Surprisingly, not only was I hooked on these books, but I actually found business inspiration in the process. Here are the 10 Entrepreneurial Insights that I hope the multitude of fanatically engrossed readers are taking away from this craze.
1. Just Start!
The author's advice to aspiring writers is, "Stop thinking about wanting to write – sit down and start doing it."  In business, stop focusing on perfection or waiting for the right time — just get started.  A lot of the criticism of EL James' work is that the books are poorly written and barely even edited. But that hasn't stopped a mass of fans and followers from becoming consumed by her books.  Your work doesn't need to be totally perfect to make an impact.  Take action.
2. Hire Help
Christian Grey employs a staff, creating a support team whom he respects, trusts and values deeply, essentially buying himself more time. He also smartly structures and designs his company so that he is working his strengths and hires the best people to cover his weaknesses.  To know your strengths and weaknesses and not try to do everything yourself is vital to maximizing your time.
3. Focus on Your Passions
While in college, Christian discovered what he was good at and then proceeds to focus and fuel that passion.  Yes, he may come off as a workaholic, but I suspect most passion-driven entrepreneurs don't mind working a lot. They enjoy what they do, transforming work into a reservoir of passionate fuel.  Release everything else.
4. Listen to Your Inner Voice
Anastasia comes into the relationship with geeky bookworm smarts but utterly lacking in self-confidence.  Throughout the story, her inner voice plays a vivid role in her personal growth process.  She refers to this voice as her "inner goddess" and visualizes said inner goddess as being a bold and fun individual. As a result, she gains much-needed self-confidence.  This is not a new concept.  I know that we all have times in our lives and businesses where we have doubt and the fear trickles in, poisoning any confidence we may have had before.  Learning to listen, trust and play with your own inner voice (be it intuition or inner deity) is a key ingredient in personal and business success.
5. Value Self Care
Christian values self-care as a major facet of his and Anastasia's life.  He believes in healthy, proper eating and rigorously scheduled exercise that is enjoyable.  Also, he utilizes therapy to release and heal old wounds and set new intentions for the future. Uncovering gratifying ways of taking care of yourself will allow you to remain grounded and healthy during the ups and downs of life and business.
6. Have a Life Outside of Work
In addition to his self-care regimen, Christian sets proper boundaries between the different aspects of his life.  He has a healthy dose of hobbies outside of working and building his empire. Christian also knows what he won't indulge in, for example considering television to be a waste of time. He balances the priorities and relationships with people who are important to him. This allows him to have a full, ideal life, in balance with healthy relationships.
7. Embrace Technology
Christian has no qualms about only having the best (the finest and most expensive) gadgets, cars and such if it means reliability when it counts and matters most.  He also utilizes technology to give himself the freedom to work when and where he pleases while continuing to enjoy all that his life has to offer.  This provides true location independence.
8. Hold Tight to Your Visionary Ideals
Christian Grey is very charitable with his wealth that comes from his hard-earned success.  He supports his beliefs and vision for the future through charitable gifts and organizations that are working to advance those ideals. Your business success is not just about your personal wealth, but about how you can leave an impact on the world.
9. Disciplined Preparation for Upcoming Opportunities
Throughout the story, Christian's discipline, calculation, and occasional impulsiveness are aligned for action when opportunity knocks. I got a major kick out of Christian pursuing Anastasia, prepared with his business card in hand. In my consulting of entrepreneurs, I always preach having your business card with you at all times, being prepared for your next connection.
10. Partnerships and Joint Ventures
EL James has brand and product placement heavily peppered all throughout the series, unintentionally making those brands very successful in the process.  This is the same for any mutually beneficial partnership. One individual's accomplishment benefits the other so that they support each other to even more success. Finding where can you strategically create partnerships is key to continual growth. Through EL James' success, many businesses and ventures have spawned and thrived. The marketing opportunities are endless.
Overall, the Fifty Shades of Grey books left me feeling inspired to set larger, slightly more audacious goals for myself and my business. Money has never been a major motivating factor for me; it's more about opportunities and experiences the money earned can provide.  Leave it to a Business Coach to get hooked into romantic novels and walk away with business insights.  Inspiration is everywhere.
How have you been most inspired by a guilty pleasure? Let me know in the comments.